The second quarter of 2023 tested even the most seasoned of investors. It was a quarter that included the U.S. reaching a debt ceiling agreement, the Federal Reserve pausing their aggressive interest rate hikes, and bank failure fears starting to subside. During the quarter, equity markets continued to defy odds by staying strong, and the major indexes ended the second quarter higher than they started. With the support of mega-cap tech stocks and the artificial intelligence (AI) buzz, the S&P 500 officially began a new bull market in June, rising over 20% from its low in October 2022.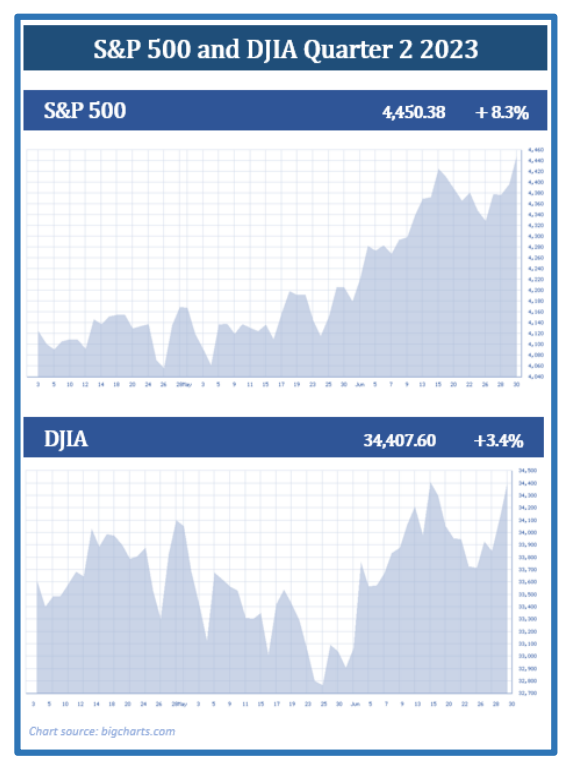 Led by a handful of large tech stocks, the S&P 500 rose 8.3% during the second quarter, logging its third straight quarter gains. The S&P 500 closed the quarter at 4,450, ending the first halfof 2023 up 15.9%, for its best half since 2019. The Dow Jones Industrial Average (DJIA) ended the quarter up 3.4%. The DJIA closed on June 30, 2023, at 34,407. (Source: cnbc.com, 6/30/23).
Some experts are arguing that the S&P 500 bull market could be a temporary stroke of luck before an impending recession. The recent rally was fairly concentrated in the big tech sector and did not include many categories like most mid and small-cap stocks. They suggest that this rally will likely need to broaden its horizons in order to continue.